Canoga Park Rooter Plumbing, Water Heat Repair, Water Leak and Leak Detection
Your first choice for Water Heater Repair, Rooter Plumbing, Leak Detection and Plumbing Emergency in Canoga Park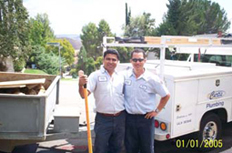 Canoga Park Plumbing takes pride in offering a diverse array of plumbing repair services like water heater repair, rooter plumbing, leak detection and plumbing emergency. Our superior services include all the plumbing repair requirements in and around your home such as in the kitchen, bathroom, sewers and water heaters. We also are proud to provide these equal plumbing repair services for any local businesses. Canoga Park Plumbing is a full service plumber and has the technology and experience for water heater repair, rooter plumbing, clear clogs, fix broken pipes, leak detection and any plumbing emergency in a as fast as possible. Our plumbers come equipped with the most advanced plumbing technology in order to help save you both time and money.

Canoga Park Plumbing is surely an investment that may just save you from any further damage that could potentially be dangerous or end up costing you money and time you could have saved.  If you suspect a water leak please call immediately.  Many different leaks can go unnoticed for long periods of time.  Our plumbing service experts have fixed hundreds of slab leaks and have specialized electronic leak detection techniques. 

Whether you work or live in Canoga Park if you have a concern about your plumbing, a suspicion of a water leak, or a plumbing emergency please don't hesitate to call us at 800-729-8149. Our friendly plumbers will be more than happy to assist you with any of your plumbing needs.